Musician, Song Writer, Musical Arranger, Producer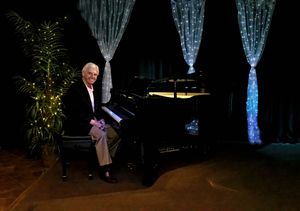 Larry has been a professional musician and in the music business for over 50 years. He traveled extensively on the road for many of those years. Larry is a musician, songwriter, musical arranger and producer who plays piano keyboards, but best known primarily as a Hammond B3 Organist. To his credit he has produced 18 CDs, and has arranged hundreds of songs for not only himself, but also other artists as well. He has appeared in New York, Las Vegas, Chicago, Palm Springs, Fort Lauderdale, Fort Myers, Tampa, Boston and all over New England.  
Entertaining over 6000 audiences throughout his career, Larry has worked in both TV and radio. His two hour radio show aired on WWNH, a New England Top 40 station, and later hosted a one hour TV show which aired on WNEC, (The New England Cable Network). Larry also wrote, produced, and performed many radio commercials for many successful New England businesses. 
Musically trained by the world's best educators, including the world famous Frank Goviani who was known for his classical music accomplishments. Goviani was viewed as one of the top three accordionists in the world. Larry also studied under John Kiley, organist for the Boston Red Sox and Boston Bruins. 
Larry is also an alumnus of the world famous Berklee College of Music, in Boston. Larry studied under the great jazz and classical musicians and educators, Phil Wilson. Charlie Mariano, John LaPorta, Ray Santizi, Herb Pomeroy, as well as Boston Pops Drummer, Fred Budda, and TV music writer and composer for the television shows, "The Simpsons" and "Alf", Mr. Alf Clauson. 
As an educator, Larry taught at The Burlington Academy of Music, in Burlington, MA, The Wurlitzer Organ Company, The Tewksbury School of Music, Tewksbury, MA, The Eastern School of Music, in Burlington, and later operated his own music school, The Larry Bisso School of Music. 
Before heading off to college, Larry spent several years as organist and choir director at Saint Anthony's Catholic Church, in North Woburn, Massachusetts, and during his sophomore, junior and senior years in high school ... Larry was appointed Drum Major of the award winning, Woburn High School Marching Band, also in Woburn, Massachusetts. 
 - Mike Lawrence, The B.E.S.T Group Productions -